Sport News
TERM 1 2024 ENROLMENTS
COMING SOON!!

Tues 30th Jan - 2nd April
Wed 31st Jan - 3rd April
* 10 weeks *
Existing term 4 customers will be given priority booking. Online booking will be available from Monday 11th Dec
BOOK NOW for Term 4!


Tues 10th Oct - 12th Dec
Wed 11th Oct - 13th Dec
* 10 weeks *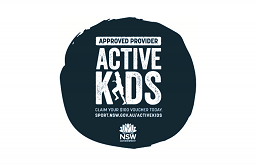 Active Kids Vouchers
How to redeem your voucher with Sporty Kids
If you wish to use your Active Kids Voucher, please email us with the following details:
· Name on the Vouchers (must be exactly as it appears on the voucher)
· Voucher Nos (16 digits, no spaces)
· Students Date of Birth (DD/MM/YYYY).
Once we have received your email, we will validate your voucher and then send you a discount code to use at checkout. Our email address is enquire@sportykids.net.au
How do you download a voucher?
Claim your Voucher: https://www.service.nsw.gov.au/transaction/apply-active-kids-voucher
What is the Active Kids Rebate Program?
The NSW Government is helping kids get active with the new Active Kids program. From 31 January 2018, parents, guardians and carers can apply for a voucher valued up to $100 per calendar year for each student enrolled in school. The voucher may be used with a registered activity provider for registration, participation and membership costs for sport, fitness and active recreation activities . The voucher can be used at any time during the calendar year it was issued.
Who is eligible to claim the voucher?
Every child (4.5 - 18 years' old) enrolled in school from Kindergarten to Year 12 will be eligible for an Active Kids Voucher. This includes those who are home-schooled or enrolled in secondary school education at TAFE NSW.
What can the voucher be used for?
You can use the voucher for registration or membership costs with approved Active Kids providers.
Vouchers can only be used:
· one time (if the chosen activity fees are less than $100, then the remaining balance
cannot be used)
· during the calendar year they're issued
· for the person named on the voucher
· for registration, membership fees or activities of at least 8 weeks duration with
approved Active Kids providers.
Vouchers cannot be:
· split between more than one provider or registration (meaning you may not be able to
claim the full $100 rebate)
· used for individual items (like uniforms, balls, hats)
· redeemed for cash.
Find out more information
Frequently asked questions can be found here: https://sport.nsw.gov.au/sectordevelopment/activekids/faqs