Sport News
BOOK NOW for Term 3!


Mon 12th July - 6th Sept 2021 - tbc
Tues 13th July - 7th Sept 2021
Wed 14th July - 8th Sept 2021
* 9 weeks *
💥 COVID-19 UPDATE 💥
All of our classes continue to be temporarily suspended following the lockdown extension for NSW.
We hope to be back week commencing 30th August if restrictions have been lifted.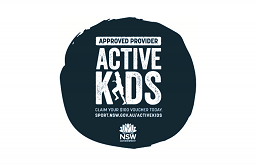 IMPORTANT - PLEASE READ
* Only one parent/spectator to attend training.
* Any customers showing signs of a fever, cold or flu like symptoms, including a cough, high temperate or sore throat, should not attend sessions.
* Any customers who have been in contact with a confirmed case cannot attend sessions unless cleared by a doctor.
* Do not attend if you been to any of the reported case locations listed on the NSW Health website (

https://www.nsw.gov.au/covid-19/latest-news-and-updates

).
Mini Sports 2.5 - 3.5yo
Mini Sports is a program just for 2.5 - 3.5 year olds. The classes will run for 30 - 35 minutes. Mini sports is great for development of coordination & motorskills in a fun social environment. Your Sporty Kids will learn the basics of throwing, kicking, catching and passing.
Coach to Sporty Kid ratio is kept to a max of 6 kids per coach to enable us to ensure that they are not only learning new skills they are also learning to share and participate with others.
Parental participation is not required, however we do require an adult to stay at the session for the duration.
FREE TRIALS
Not sure if you child will like the program, why not book in for a Free trial by clicking HERE