Sport News
TERM 1 2024 ENROLMENTS
COMING SOON!!

Tues 30th Jan - 2nd April
Wed 31st Jan - 3rd April
* 10 weeks *
Existing term 4 customers will be given priority booking. Online booking will be available from Monday 11th Dec
BOOK NOW for Term 4!


Tues 10th Oct - 12th Dec
Wed 11th Oct - 13th Dec
* 10 weeks *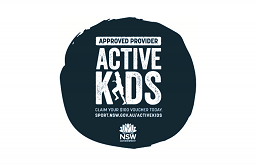 Policies
Wet Weather Policy
We do play in light rain provided the field is safe to play on. If we need to cancel your session due to the weather, we will notify you by SMS.
Make up sessions will be organised at the end of the term, during the school holidays. Alternatively you may attend any other class during the term as a make up class provided there are spaces.
If a lesson is unable to be run at our regular venue due to the ground being closed, and another outdoor venue is available near by, we will SMS notification of an alternate outdoor venue to you.
No credits or refunds will be provided for any sessions cancelled by us where we have provided make up classes.
*Please ensure we have your mobile number to let you know about any changes.
Sporty Kids Privacy Policy
Sporty Kids acknowledges and respects the privacy of individuals. This policy sets out the way in which we will use, manage and protect your personal information in accordance with the Privacy Act 1988 (Cth).
Unless stated by you to the contrary, you acknowledge and consent to the use or disclosure of your personal information including your name, address, email address and other information you provide to us, in circumstances that are:
Set out in the Privacy Policy; or
Permitted under the Privacy Act 1988 (Cth).
COLLECTION OF INFORMATION
We may collect personal information from you including your name, address, telephone number and email address, when you knowingly provide us with information such as when you visit our Website and register your needs or enquire about our services.
USE OF YOUR INFORMATION
Personal information that you submit to us may be used by us for reasonable business purposes, in that we may store (database) and process that information to better understand your needs and how we can improve our services. Your personal information may also be used for the following purposes:
Sporty Kids Personnel to make contact for the purpose of providing services
Trade promotion purposes
Purposes related to promotion, marketing and operations
Statistical purposes
For any of the above purposes we may contact you by electronic or other means.
* Sporty Kids Personnel means those persons employed or engaged by Sporty Kids or its Franchisees or Licencees to provide the required services.
DISCLOSURE TO THIRD PARTIES
Personal information that you submit to us will only be disclosed to a third party, if we are required or authorised by law to disclose the information. Otherwise we will not disclose your personal information to any third parties.
ACCESS, ACCURACY AND SECURITY
We will take reasonable steps to ensure that the personal information we collect is accurate, complete and up-to-date.
You can access and request correction of any personal information concerning you at any time. You may also request that we delete your personal information at any time. Any such requests should be made directly by contacting us at the details set out below.
We will take reasonable steps to protect personal information from misuse, loss and unauthorised access, modification or disclosure.
SENSITIVE INFORMATION
We will not collect use or disclose sensitive information (such as information about racial or ethnic origins or political or religious beliefs) except with your specific consent or in the circumstances permitted in the Privacy Act 1988 (Cth).
PRIVACY AND OUR WEBSITE
Clickstream Data
Each time you visit the Website our server collects some anonymous information, known as click-stream data, including the type of browser and system you are using; the address of the Website you have come from and move to after your visit; the date and time of your visit; and your server's IP address.
We may collect this information for statistical purposes to find out how the Website is used and navigated, including the number of hits, the frequency and duration of visits, most popular session times. We may use this information to evaluate and improve the Website's performance.
Cookies
A Cookie is a piece of information that our web server may send to your machine when you visit the Website. The Cookie is stored on your machine, but does not identify you or give us any information about your computer.
A Cookie helps us to recognise you when you re-visit the Website and to co-ordinate your access to different pages on the Website. With most Internet Browsers, you can erase Cookies from your computer hard drive, block all Cookies, or receive a warning before a Cookie is stored. If you want to do this, refer to your Browser instructions or help screen to learn more.
MORE ON PRIVACY
You can obtain further information about privacy in Australia and the protection of your personal information on the Australian federal Privacy Commissioner's website www.privacy.gov.au
CONTACT US
Privacy Officer
Sporty Kids has appointed a privacy officer to be the first point of contact for all privacy related matters and to assist in ensuring Sporty Kids' compliance with privacy obligations.
Please contact us if you wish to discuss any privacy issues, or if you do not wish to receive any future communications from us at the details below:
ADDRESS:
Helen Mortimer
Tel: +61 (0)2 4951 8886
Email: enquire@sportykids.net.au
Make Up Lesson Policy
If for some reason, such as being away on holidays, sick, work etc you are unable to attend your regular lesson we can arrange a make up for you.
The conditions to be eligible for a make up lesson are:
1. You must book your make up session with us in advance as just turning up could result in your little one being disappointed if the class is full. You can either text, email or call.
2. Make up sessions can only be taken during the same term that you have booked as they do not carry over to a new term
3. Make up lessons are subject to availability. We can not guarantee that we can fit you in to the class that suits you but we will do our best.
No credits or refunds will be given for any sessions that you are unable to attend.
Refund Policy
By enrolling in our classes, you are committing to a service contract for a complete term. We do not offer refunds if there is an issue with the service that is outside of our control. i.e - a change of mind. We offer a FREE TRIAL to ensure that our customers are satisfied with our program prior to enrolling.
Waiver of Liability/Indemnity and Consent
I understand that if my enrolment for my child/children in a Sporty Kids activity is accepted that I agree to this release, waiver of liability, indemnity and consent as set out herein.
1. I hereby release and indemnify Sporty Kids and its affiliates (officers, servants and agents, employees, volunteers, contractors, sponsors, participants, parents, venues and stakeholders) from all claims, costs, proceedings, liabilities and expenses arising from or in any way connected with my childs participation in Sporty Kids programs and activities.
2. My child will participate at my own risk, and I accept all risks associated with the activity including injury, permanent incapacitation, death, loss and damage. Participation in Sporty Kids classes and events does not include Personal Injury Insurance.
3. My child will wear suitable and appropriate clothing, footwear and equipment.
4. I accept that my childs personal property may be lost or damaged and that my child may cause injury to other persons or damage their property.
5. I understand that participation is of a physical nature. I declare as a condition of participation, that my child has sufficient personal fitness to be able to safely participate and that I am not aware of any illness, injury, disability or condition which may preclude my child from participating and/or cause my child injury, death or loss while participating in Sporty Kids programs and activities.
6. I understand that I must disclose any pre-existing medical or other condition that may affect the risk that either my child or any other person will suffer injury, loss or damage and waiver any claim they might have on.
7. I consent to first aid being administered by a Sporty Kids staff member who is the holder of a current first aid certificate.
8. I agree that if my child is injured or ill that Sporty Kids and its affiliates may at my cost and expense arrange medical treatment and emergency transportation to hospital or a doctor as deemed necessary, by Sporty Kids and its affiliates. I agree that I am responsible for my childs medical and ambulance costs and insurance.
9. My child will not engage in any conduct, on or off the field, which places other participants at risk of injury or death and/or which is in the opinion of Sporty Kids and its affiliates, considered to be unreasonable or unsportsmanlike behaviour. The determination of whether my childs conduct places or placed other persons at risk of injury or death and/or which is or was unreasonable or unsportsmanlike behaviour is solely at the discretion of Sporty Kids and its affiliates and I agree to be bound by that determination.
10. I give permission for my child to be collected from Sporty Kids by my nominated contacts. I will advise Sporty Kids immediately if any other person is authorised to collect my child. My child will not be released into the care of a minor (less than 18 years).
11. I agree for my childs personal details to be entered into a database held by Sporty Kids which will be used for the administration of programs and activities, and may also be used for future marketing and promotion of Sporty Kids programs and activities.
12. I give consent for Sporty Kids staff members to take photographs or videos of the classes and events where my child might attend, for marketing and/or publicity use. Photographs/videos taken by parents/guardians may only be used for personal use.
13. A parent and/or guardian of a child must be present at all times throughout a program or activity when the child has not started Kindergarten.
14. No food and/or drinks are to be taken onto the playing area. Participants must have a bottle of water available at all times that can be refilled as needed.
15. I agree to supervise non-participating children at all times.
16. I will encourage my child and applaud good play and performances and will not participate in any form of violet, threatening, abusive or discriminatory behaviour.
17. Smoking is prohibited in all indoor and outdoor venues even if the venue terms of admission permit smoking,
18. I will adhere to the venue terms of admission at all times.
19. Staff cannot accept children who are sick for the safety of all children attending the program. Parents/guardians are asked to make other arrangements for their children in these circumstances.
I have read and understood the terms set out above and I have asked Sporty Kids for clarification on any area/s of concern. I freely and voluntarily without any inducement declare my online acceptance (as if I was signing the form) to be complete and an unconditional release of all indemnity.