Sport News
Term 4


Enrolments Now Open!
To register or book click on the button below:


Mon 14th October - 9th December 2019
Tues 15th October - 10th December 2019
Wed 16th October - 11th December 2019
* 9 weeks *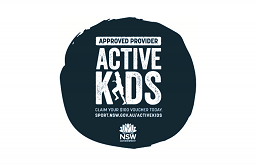 We can now accept Active Kids Vouchers!

Click here to find out more
Videos
Check out these videos of the kids having fun!
More video!
Hope you are enjoying these!
OK, I'll stop now!